Signet rings, delicate necklaces and chunky ear hoops — these are probably the must-have pieces you pull from your jewelry box multiple times. After months of wearing the same sparklers, they're probably worn-out or in need of a refresh.
In the same way that a jewelry retouching provider can brighten up a dull fashion photo, 2020 trends are here to save the day. If you wish to change your fashion style, the right pair of statement earrings or chunky bracelets included in this year's trends can perk up your outfit.  With this year's selection of runway offerings, your jewelry options are plenty.
Due to the pandemic, there isn't much to be said about 2020 but the jewelry trends are still on FIRE. Surrealism, heavy metal chains, rocker-esque pearls and highlighter are nothing like the ones you see on last year's stand — there are plenty of gorgeous finds in the 2020 world of jewelry.
Check out these glitzy trends with unique pieces that will add a fresh feel to any outfit.
Surrealism in Jewelry
Salvador Dali's art may have given surrealism its mainstream fame, but other influential artists during the 20th century, like Rene Magritte, Frida Kahlo and Pablo Picasso, created a cultural movement that influences today's fashion picks.
Modern jewelry brings these imaginative creations to life with dripping jewels, floating eyewear and disjointed statement pieces. The best part about surrealist jewelry is you can mix and match different pieces to create a surrealist fashion statement.
Hardcore Hardware
Your local hardware store may have the next pieces for your jewelry collection. Padlocks, safety pins and keys are now becoming a staple in jewelry trends. These hardware items give your look an edgy and grungy vibe, depending on the type of jewelry you get. Hardware can also be classy items when you wear lock and key post earrings or gold-plated safety pin necklaces.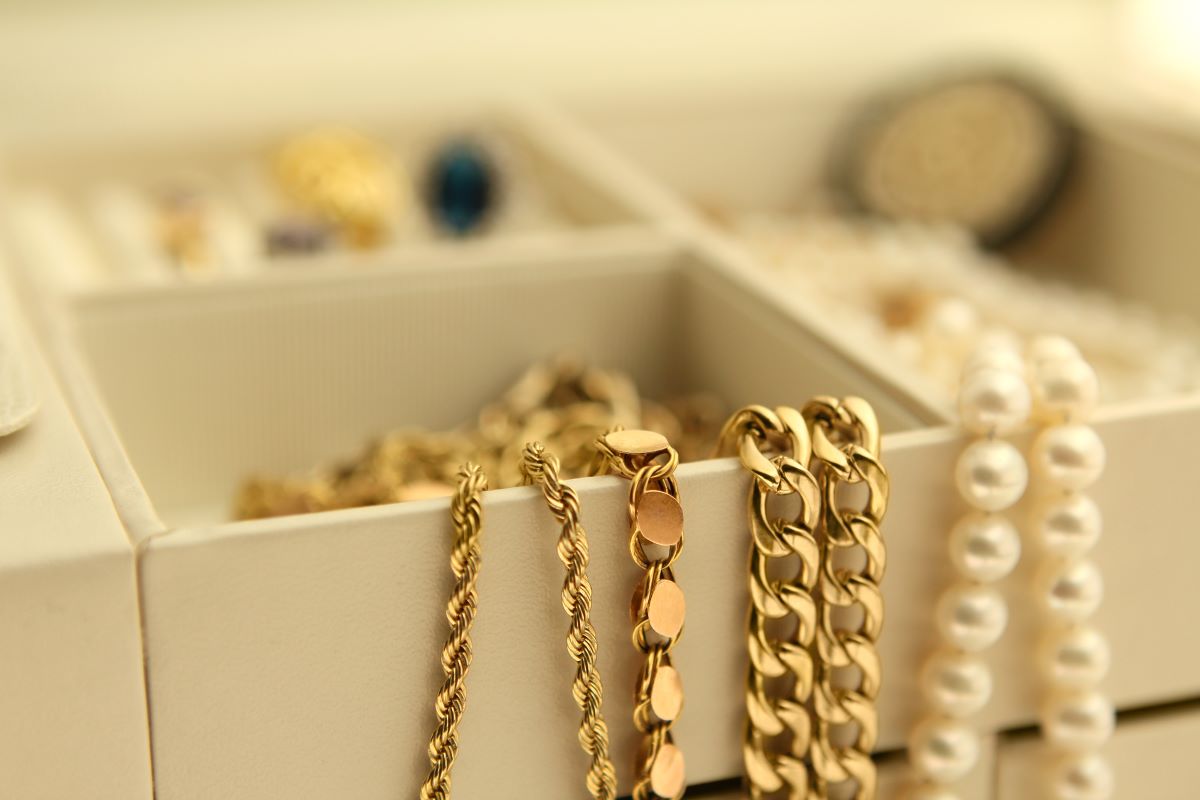 Chains Make the Statement
Chains are today's fashion favorites since they add a dash of action to any outfit, plus disregard gender stereotypes. This style can be worn as necklaces, bracelets, earrings, belts and purse straps. Each decade has its own style choice in terms of chain design and width. Today, however, chains are available in different shapes, sizes and colors, making them a classic worth adding to your wardrobe.
Wear your chains with athleisure or use them to spice up your slip dresses and knitwear sets. Chains have a sexy undertone that is ultra-feminine and utilitarian at once.
Chunky Pieces and Layering
As the cool weather season approaches, fashionistas are taking advantage of the cold wind by playing around with layers and textures (wear your delicate chains, pendant necklaces and beaded strands together). This is also the season for more sweater-happy hoops and funky charms and chunky statement pieces (thick gold chains and organic pearls).
Go Symbolic with Your Sparkles
Jewelry that carries meaning — a symbolic and sentimental approach to jewelry that is gaining popularity this 2020. From the Hamsa to the Christian cross, these lockets or charms serve as a personal reference, sentimental token or a type of amulet.
You Can't Go Wrong with a Cocktail Ring
Gone are the days of skinny gold stacking rings. Now, it's all about the standalone golden cocktail rings. Apart from being empowering pieces, gold cocktail rings are the best conversation starters. If you want a great statement piece while out (social distance) drinking with a friend or two, this ring is your best accessory. Wear it on your index finger!
Go Solo with the Charms
If 2014 had arm parties, 2020 is all about the ear stacks. It's every fashionista's secret to crafting an understated yet very cool look. Customize your earpiece with asymmetrical charms. Wear a solo charm on one side and nothing on the other.
Multi-Purpose Jewelry is the New In
Before, the one-color scheme was popular in the world of jewelry aficionados. Now, it's all about mixing and matching your pieces. Use your bracelets like a necklace. Create a bolder look by wearing two Iconica bracelets.
Express Yourself with Graphic Personalization
People want to express their personality in what they wear. You can do that with your jewelry. Wear your initials, the initials of a loved one or your favorite charms. Some jewelry lovers gravitate toward statement-making silhouettes, such as signet rings.
Neon Everything
If you are after an eye-catching fashion statement, NEON is your best friend. Day-glo hues have been popular with celebrities for the past seasons and now, jewelry stores offer toned-down versions normal people can wear. Vamp up your outfit with fluorescent pink pearls or electric yellow bracelets.
It's a promising year for jewelry. If you want to spice up your outfit (even in quarantine), explore this 2020's jewelry trends!