Home renovation is a process that allows you to give your home a new look and feel. You can do it in many ways, but the rustic design is one of the most popular. Rustic design has been around for centuries, and it never seems to go out of style.
The main idea behind rustic decorating is using unfinished or natural materials like wood, stone, leather, etc. The best part about this type of design? You don't need any fancy tools or equipment because you can find everything you need at your local hardware store! With these tips on achieving a rustic look with ease, you'll be able to transform your house from boring vanilla into an inviting country cabin-inspired home in no time.
1. Start with the floors.
One of the essential aspects of rustic design is flooring. Unfinished wood floors are the way to go. If you have no carpet, you can always try painting or staining your floor to give it a more rustic look.
2. Introduce some stone.
Incorporating stone into your design is a great way to add texture and interest. Try using stone for your fireplace surround or an accent wall in your living room.
3. Add some wood beams.
Wood beams are another great way to add texture and interest to a room. They can be used on ceilings, walls, or even as part of your fireplace surround. Having Barnwood ceiling beams is a perfect look.
4. Build a fireplace.
If you don't have a fireplace, consider adding one. It's a great focal point for a room, and it can set the tone for your design. A wood-burning fireplace would be the most rustic, but you can always use a gas insert if you're not up for that project.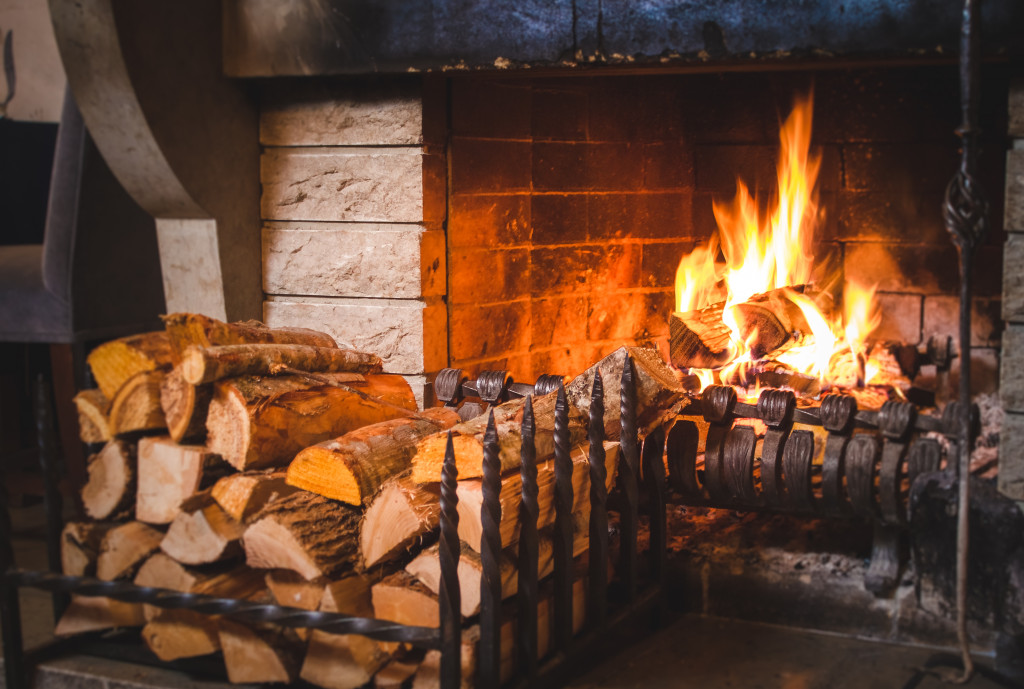 5. Use a log holder for your fireplace.
A log holder is a great way to add a touch of rustic charm to your fireplace. Plus, it's a great way to keep your logs organized and tidy.
6. Hang some rustic lighting.
Lighting is critical in any design, but it's especially important in rustic design. Try using rustic lighting fixtures like antique lanterns or wall sconces.
7. Incorporate wood furniture.
Wood furniture is a must for any rustic space. It helps create that natural feel that is so essential to this design style.
8. Bring in some cozy furniture.
Combine wooden furniture with cozy furniture. That includes items like plush sofas, comfortable chairs, and fuzzy blankets.
9. Introduce some leather accents.
Leather furniture and accessories are a great way to add a touch of luxury to your rustic space. Try using a leather sofa or armchair in your living room or adding leather accent pillows to your bedroom.
10. Use rugs to define different areas.
Rugs are a great way to divide up a space and add extra warmth. They're also helpful for protecting your floors from dirt and damage. Some rustic rug designs include plaid, buffalo check, or braided rugs.
11. Paint your walls white.
White walls are a staple of rustic design because they help create a blank canvas for you to work with. Plus, they help make your space feel bright and airy.
12. Stick to a neutral color palette.
Rustic design is all about using natural colors and materials. That means sticking to a neutral color palette like white, black, brown, etc.
13. Add some metallics.
While neutrals are the foundation of rustic design, adding some metallics can help add interest and depth to your space. Try using metals like copper, brass, or iron in your decor.
14. Use plaid and buffalo check fabrics.
These classic patterns are a staple of rustic design. You can use them for throw blankets, pillows, curtains, or even upholstery fabric. Also, add some quilts.
15. Display some antiques.
Antiques are the perfect way to add character and history to your space. You can use them as decor items or even furniture.
16. Accessorize with Mason jars.
Mason jars are a popular choice for rustic home decor because they are versatile. You can use them as vases, drinking glasses, storage containers, etc.
17. Use rustic wall decor.
Wall decor is a great way to add personality to your space. There are tons of different types of rustic wall decor like wooden signs, metal wall art, or even mason jar sconces.
18. Don't be afraid of a bit of DIY.
Doing some DIY projects is a great way to add personal touches to your home and make it feel like your own. Try making simple rustic decor items like a wooden sign or a mason jar vase.
19. Bring in some greenery.
Plants and flowers are a great way to add color and life to your space. Try adding some potted plants or floral arrangements throughout your home.
20. Get rid of clutter.
Clutter can ruin the look of a rustic space. So, it's essential to try to keep your space as clean and organized as possible. That means getting rid of any unnecessary items and finding creative ways to store the things you do need.
Rustic design is all about creating a warm and cozy atmosphere. You can create the perfect rustic look for your home by following these tips. You will always feel like you are in the countryside on holiday.