Use your artistic talent to create original artwork and home accessories.
Upgrade and revamp old furniture or walls with DIY painting techniques or repairs.
Display your collections in elegant displays to showcase your personality and interests.
Invest in professional roofing services and consider remodeling the kitchen and bathroom.
Experiment with color schemes to create a cohesive and inviting environment.
Home is where the heart is, and the way you style and decorate your home reflects your personality and preferences. Some people like to keep it simple, while others prefer an eclectic or sophisticated look. As an art and design enthusiast, you can use your artistic skills to improve your home's design, create unique decor, and add a personal touch to your living spaces. Here are just some of the ways you can unleash your inner artist and enhance your home's aesthetics with creative DIY projects and art-inspired design.
Create Your Own Artwork
Whether you're a painter, sculptor, or illustrator, you can use your skills to create original artwork that reflects your style and complements your home decor. Instead of buying generic wall art, personalize your walls with pieces that you've made with your own hands. You can use canvas, paper, or any other material that inspires you and experiment with different techniques and mediums. This will not only give your home a unique character but also showcase your artistic talent to your guests. Here are some related ideas:
Make Your Own Home Accessories
Accessories are a great way to enhance your home's design, and you can create them on a budget with simple materials and tools. For example, you can make your own lampshades, throw pillows, table runners, or curtains using fabric, paint, or embroidery.
These accessories can add texture, color, and detail to your rooms and make them cozy and inviting. Plus, you'll have the satisfaction of knowing that you've made something with your own hands.
Paint a Fun Accent Wall
Painting just one wall in a room is an easy and affordable way to give it a pop of color or pattern. You can use stencils, sponges, rags, and other simple tools to create interesting textures and effects. This will add interest to the room without overwhelming the space with too much color or pattern.
Display Your Collections
As an art and design enthusiast, you might have a collection of objects that you've gathered over the years, such as vintage posters, ceramics, or books. Instead of keeping them hidden away, showcase them in your home as elegant displays that reflect your personality and interests.
Use shelves, cabinets, or wall mounts to create a gallery-like effect that draws the eye and sparks conversation. By displaying your collections, you'll inject a bit of drama and creativity into your living spaces.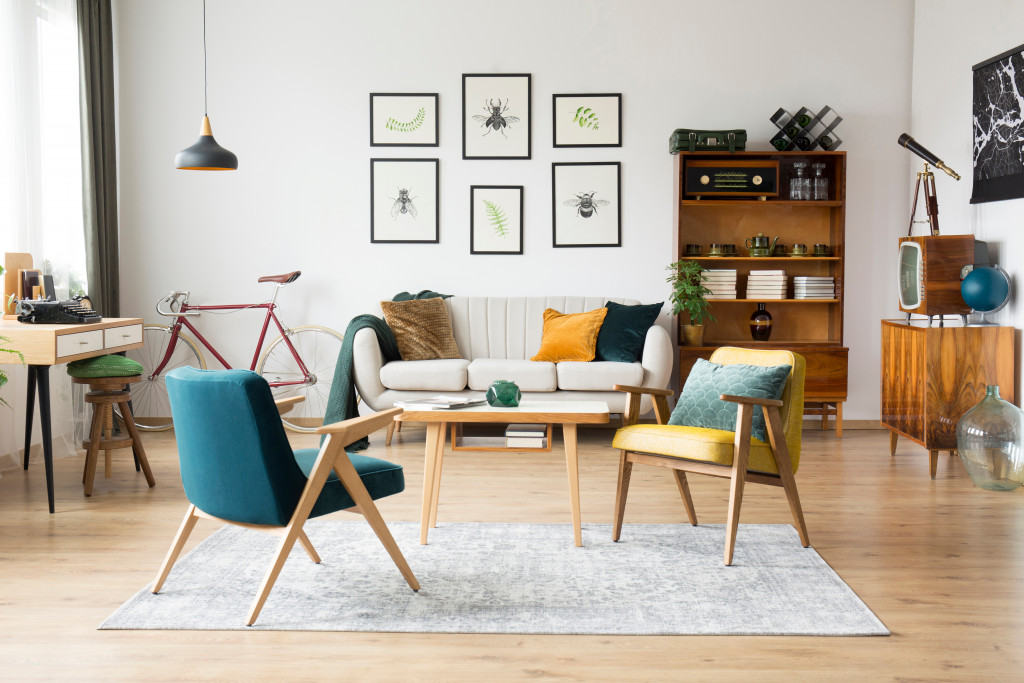 Upgrade or Repair Some Areas
When it comes to improving your home's design, don't forget about the practical aspects. If you have areas that need repair or updating, now is a good time to tackle those jobs as well. Here are some examples:
Revamp Your Furniture
If you have old or outdated furniture that needs a makeover, you can use your artistry to give it a new lease of life. A fresh coat of paint, some stenciling, or decoupage can transform a boring piece into a statement piece that stands out in your living room or bedroom.
Consider using bold colors or patterns that complement your existing decor but add a cheerful pop to your surroundings. You don't have to spend a fortune on new furniture when you can upcycle and decorate what you already have. Another option for you is to get used and quality furniture at an affordable price at recycledbusinessfurniture.co.uk.
Invest in Roofing Services
If the roof of your home is in need of repair or replacement, it's best to invest in professional roofing installation. This will ensure that the job is done correctly, and you don't have to worry about any leaks or damage.
By choosing a reputable company, you can be sure that your new roof is of the best quality and will last for years to come. Plus, you can choose a variety of different materials, such as asphalt shingles or metal roofs, so you can match the look of your home with your desired aesthetic.
Remodel Your Kitchen or Bathroom
Kitchens and bathrooms are the most used rooms in any home, so it's important to invest in remodeling them if you need to. You can use your artistic flair to create a beautiful space that is both stylish and functional. Consider adding vibrant colors, bold patterns, or decorative tiles for a luxurious look.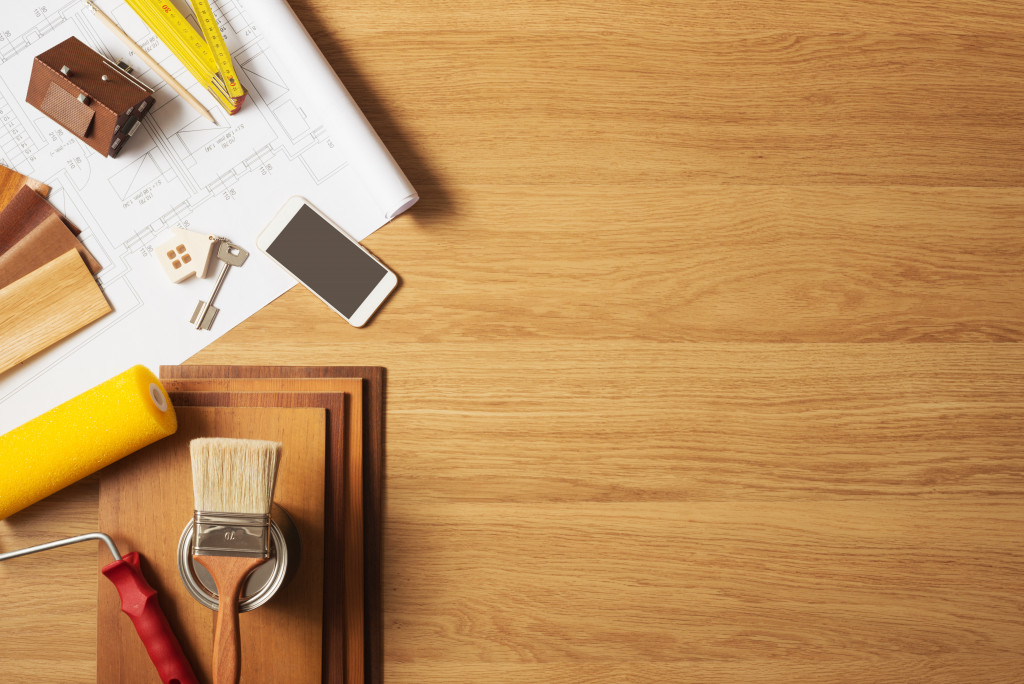 Experiment With Color Schemes
Lastly, you can use your artistry to play with color schemes and create a harmonious atmosphere in your home. Color is a powerful tool that can influence your mood, behavior, and perception of space.
By choosing the right colors for your walls, furniture, and accessories, you can create a cohesive and inviting environment that reflects your taste and personality. Consider using a color wheel or online tools to help you mix and match colors that work well together and create a visually stunning home.
If possible, try to use colors that are also found in nature, such as green, blue, and brown. This will give your home a natural and calming atmosphere.
Using your artistic skills to improve your home's design is a fun and rewarding way to express yourself and create a space that reflects your personality and aesthetic. By creating your own artwork, revamping your furniture, making your own home accessories, displaying your collections, and experimenting with color schemes, you can elevate your home's design to the next level. Whether you're a DIY enthusiast or a professional artist, you can unleash your creativity and make your home a work of art. So, grab your brushes, glue guns, and scissors, and start designing.