Though walls can never go wrong with a coat of paint, some of us just have more exquisite styles, so we'd rather deviate from the basics. That said, we may opt for the go-to alternative for paint, which is wallpaper. And although that's also beautiful, there are more types of wall coverings that are worth considering.
Installing unique wall coverings is a great way to emphasize the style of your home, whether it's rustic, traditional, or contemporary. It may also add value to your property, which is advantageous if you're going to sell it in the future.
That said, here are some examples of creative wall coverings and decor to consider:
1. Wood
Wood is a highly versatile material. If you have traditional or modern style interiors, you can use wood as wainscoting, covering just the bottom half or your entire wall with elegant paneling. It's already a popular style, but one that never gets tiring to look at.
For rustic or farmhouse style spaces, wood is best used as charming barnwood shiplap coverings. It looks magnificent on the ceilings as well. Consider white shiplap to cover kitchen, bedroom, and bathroom walls, and try stained or distressed shiplap to create an organic accent wall.
If your pad is a contemporary haven, wood paneling would be incredible. Select small sheets and have them mounted with the grain running horizontally to achieve a timelessly trendy and sleek design.
2. Tile
A tile wall isn't just for backsplashes and bathrooms. You can create a pretty accent wall in any room with mosaic tile; the trick is to just choose the right colors and finish. Going for bright colors and pronounced patterns may result in an overpowering and flashy look, so stick to subdued tones like neutrals.
A good fresh and organic choice is a bamboo mosaic tile. It is, however, not suitable for highly humid areas, so keep it away from bathrooms, kitchens, basements, and outdoor spaces. Consider installing it on a bare wall in your living room or bedroom to create a focal point in that area.
3. Stone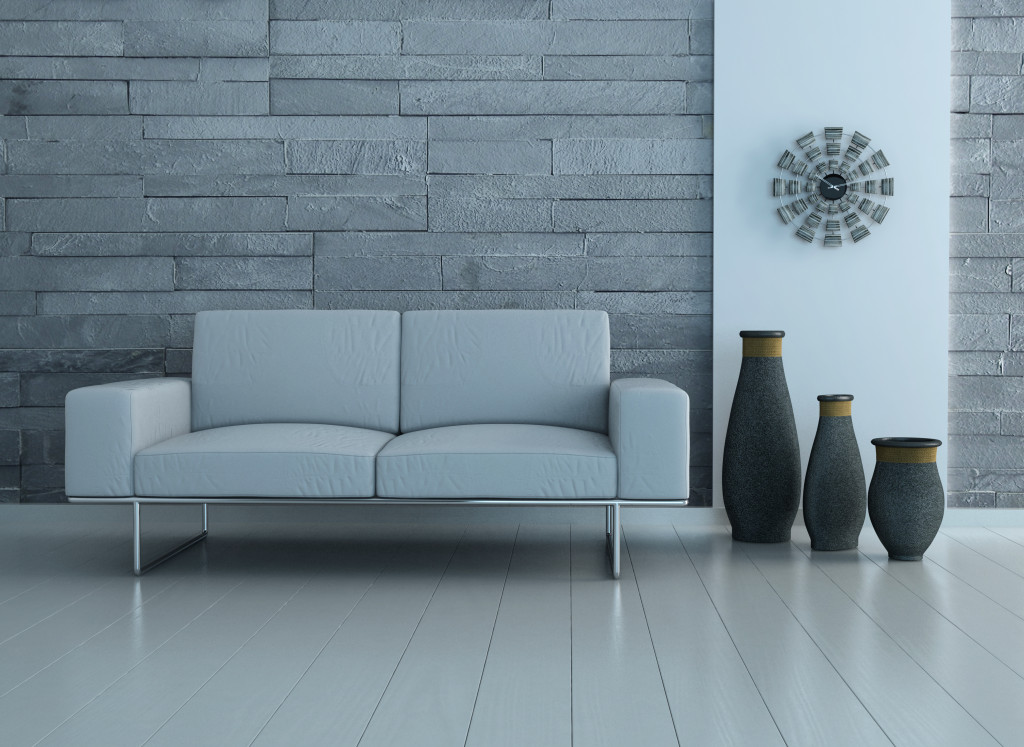 Natural stone tends to be pricey, so if you're on a budget, opt for manufactured stone veneers, instead. They're typically installed on the exterior walls, but if you have an indoor space that you want to add impact in, stone walls would do just that.
Faux stone veneers are also a great choice, especially if you want to do the installation yourself. Just note that its unnatural appearance may be obvious up close, so unless you don't mind that, then this material should be worth considering.
4. Tapestry
For decor, a tapestry would be wonderful, emitting a stylish boho vibe that's perfect for casual spaces. It delivers a lot of warmth and coziness, too, so it's best for entertainment areas.
There are plenty of beautiful tapestries in the market, but you can DIY them as well to save money and be more unique. All you need is a 9-by-12 foot machine washable drop cotton cloth and some permanent markers.
5. Post-it
If you live in a rental, your options for wall covering and decor won't be as diverse, but that doesn't mean you can't be as creative. If you like color, try covering your bedroom walls with post-it notes. Mix and match various hues or form a certain shape or pattern. Use a small amount of poster putty if the adhesive doesn't cling well.
6. Markers
Some of us just don't have the time and budget for a dramatic wall makeover, so in that case, just express your artistic side through markers. Stick to black or neutral tones, but don't be scared to add pops of color if you're feeling a little bolder.
When it comes to designing and decorating, we don't always have to follow rules, so just adorn to your heart's content and let your personality shine through.