Choose a venue with views of rolling hills or mountains for a picturesque setting.
Use earthy tones and rustic designs such as burlap or floral prints on invitations.
Incorporate twine, hay bales, fairy lights, and natural elements like wood for décor.
For outfits, select bohemian-style dresses with natural fabrics and accessorize with cowboy boots or hats for the bridal party.
Serve traditional country dishes like barbecued pork and beef brisket, and offer craft cocktails made out of whiskey or bourbon as well as locally crafted spirits.
Are you a bride-to-be who is a lover of rustic charm and country-style décor? Then, a country-themed wedding might be a perfect choice for you. This theme is all about embracing nature, simplicity, and charm. From barn venues to hay bale seating, this theme is all about bringing the great outdoors into your special day. Here are some tips and ideas to help you plan a perfect country-themed wedding.
Venue:
The first thing to consider when planning a country-themed wedding is the venue. You can opt for barn event venues that have a rustic charm and embrace nature.
For an intimate ceremony, you can find a small barn venue with minimal decoration and adornment. If you prefer to get married outdoors, choose a setting like fields or meadows for a beautiful backdrop of natural beauty.
If possible, try to find a venue that offers views of rolling hills, mountains, or valleys for a truly picturesque setting. Look for vendors that are experienced in hosting outdoor and country-style weddings so that they can help you create the perfect atmosphere.
Invitations:
Your wedding invitations are a sneak peek of the theme and vibe of your wedding. Opt for earthy tones and rustic designs such as burlap or floral prints to express a rustic feel.
It's a great idea to include details such as the dress code and recommended attire in the invitation. This gives your guests an idea of what to expect, and it increases the chances of everyone sticking to the theme.
Furthermore, you should include a note on how to get to the location and directions to your venue. This helps ensure that everyone arrives at the right place on time.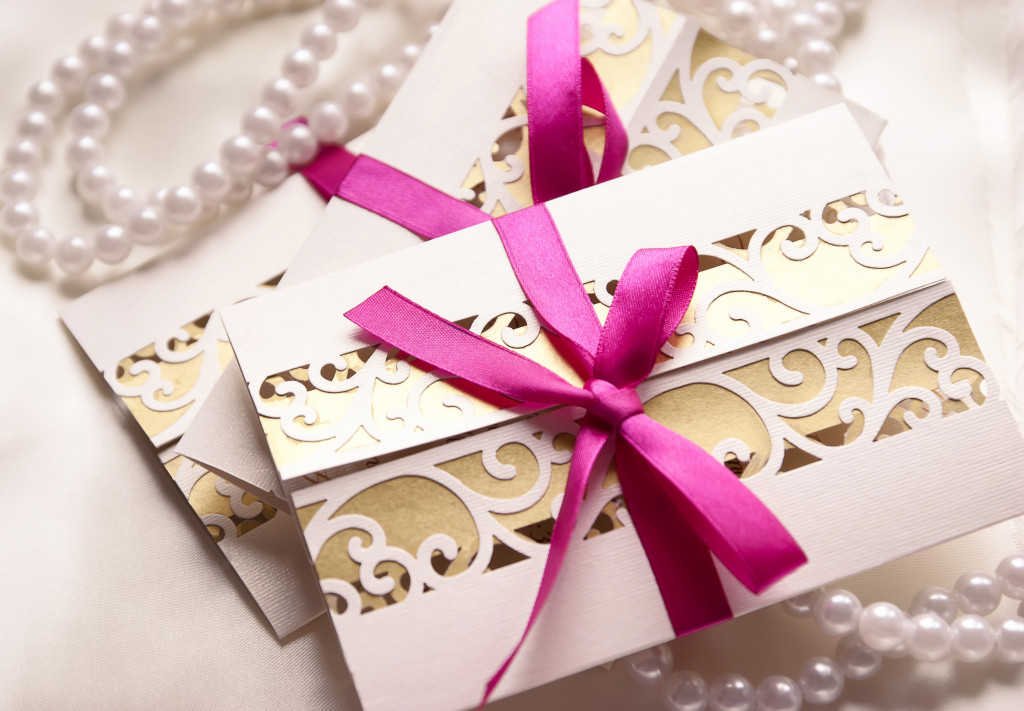 Decor & Attire:
When it comes to decorating and dressing for your country-themed wedding, it's all about keeping it simple and comfortable. The décor and clothing choices play a significant role in the success of this theme, but remember that comfort is key. Here are some ideas:
Nature-inspired Decors
Use elements like cowhides or burlap table runners, mason jars filled with wildflowers as centerpieces, or even wooden signs to guide guests around the venue. You can incorporate twine, hay bales, and fairy lights to create a warm and romantic atmosphere. Embracing nature is also a must, so don't shy away from incorporating natural elements like wood, hay, or even rocks.
Bohemian-style Dresses
For the bridal party and bride, choose bohemian-style dresses with natural fabrics such as cotton or linen. These materials provide a rustic feel while still looking elegant. You can also accessorize these outfits with cowboy boots or hats for a unique touch.
Light-colored Suits
The groom and groomsmen can opt for more classic light-colored suits but add elements like plaid ties or pocket squares for a rustic touch. Alternatively, they can go for something more relaxed such as khaki trousers and brown suspenders.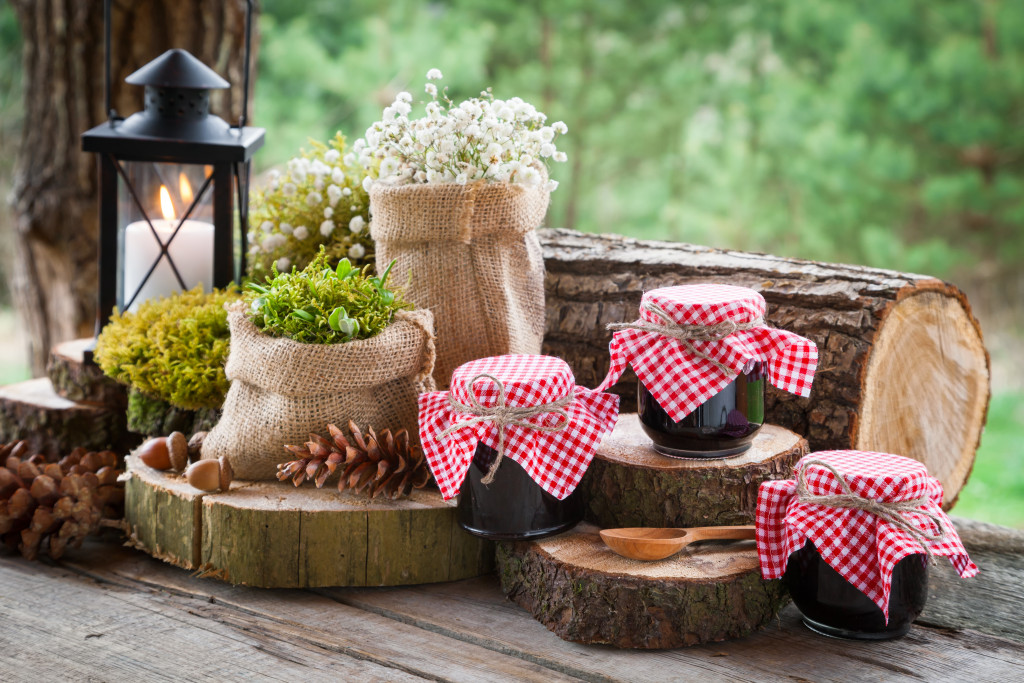 Food and Drinks:
When it comes to choosing the food and drink menu for your country-themed wedding, keep it simple, flavorful, and hearty. You should serve food favorites that would keep the atmosphere light and fun. Here are some examples:
Traditional Dishes
Traditional dishes such as barbecued pork, beef brisket, chicken and dumplings, or macaroni and cheese are all perfect for a country-themed wedding. These dishes capture the flavors of the country and can be served family-style to bring everyone together. You could also opt for some more contemporary options like tacos or pulled pork sliders for a modern twist.
Country-style Drinks
For drinks, you can choose options such as beer and wine in mason jars with custom labels or craft cocktails made out of whiskey or bourbon. To complete the country vibe, you can also serve moonshine and other locally crafted spirits.
DIY Snack Bar
Depending on the size of your wedding, you could add a DIY snack bar with an array of nuts, chips, candy, and popcorn. This is a great way to give your guests something to munch on while they enjoy the festivities.
A country-themed wedding is all about embracing nature, simplicity, and charm. It's an ideal theme for couples looking for an intimate and rustic feel for their special day. Whether you're planning a destination wedding or a backyard gathering, incorporating elements like natural décor, outdoor settings, and hearty food and drinks is the key to making the day unforgettable. Follow these tips and create your dream country-themed wedding.